Rural Internet Access Meetings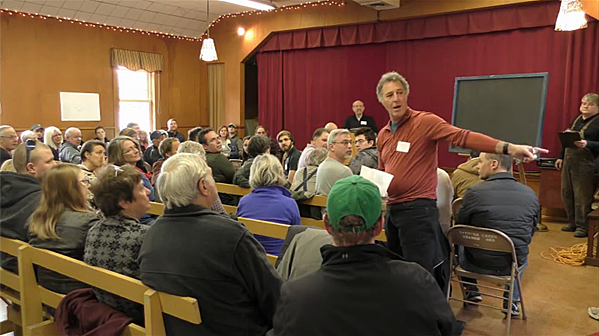 Access to affordable, high-speed internet is a priority among many rural residents throughout the country. 34 million Americans still lack broadband internet access, which is defined by the Federal Communications Commission (FCC) as a 25 Mbps connection. Of these, 23.4 million live in rural parts of our country. People who live in these rural communities increasingly are unable to take advantage of the economic and educational opportunities enjoyed by their urban neighbors.
Addressing this issue as it pertains to the neighborhood surrounding the Spencer Creek Grange, local residents Jim Evangelista and Chuck Arrera are spearheading a series of meetings which are being held at the Spencer Creek Grange. The goal is to bring together local residents, legislators and utility and broadband industry representatives in order to identify appropriate technologies and funding sources which will lead to expediting the actual rollout of affordable high-speed internet in our community.
The first meeting in this series took place on February 9th. The next meeting will take place on July 20th. Details on the proceedings of these meetings are presented below.
First Rural Internet meeting on February 9, 2019
Welcome by Mike Graber (Grange) at 2:05PM
An invitation to partake of refreshments from Malcolm Trupp.
Jim Evangelista welcomed everyone and was thrilled that the response is so large (packed room). The following meeting participants were introduced:
• Heather Buch, Lane County Commissioner.
• Courtney Flathers, Senator Merkley's Field Representative.
• June Chada, Senator Wyden's Representative could not be at the meeting, but sent information with Heather Buch.
• Matt Sayre, Vice President of the Technology Association of Oregon.
Chuck Arrera invited people who signed up on the sign-up sheet to speak have a change to share their comments and experience. They were asked to share their name and place of residence:
• Stephen Parac of XS Media – works for a local ISP provider (XS Media). Lives on Lorane highway. XS Media was founded by his Father when there was no internet in this area. XS Media tries to serve the unserved areas for internet. They serve about 150 households now. Very community minded. Provides both wireless and wired services.
• Stuart Perlmeter has been here 10 years. Biggest frustration is lack of internet. He runs a small business and is seriously hampered by lack of internet. He has to drive into town to get access to internet or phone services. Also concerned about education for rural students. Property values also affected by lack of internet. Can't upgrade appliances etc. Streaming content doesn't work. Must use DVD's.
Heather Buch, Lane County Commissioner spoke. Heather thanked Stuart for his remarks. Heather thinks this issue is very pertinent. It was raised while she was campaigning, and it is a issue she wishes to address as Commissioner. She wants to support her neighbors and help everyone to be as connected as possible.
Courtney Flathers, Field Representative from Senator Merkley's office spoke. Courtney shared information about the USDA re-connect program with $600 million dollars available in grants and multiple funding methods that would make federal dollars available for projects like these. There is a webinar on 2/13/19 about this USDA program. Courtney hears about internet issues a lot in Linn, Lane and Benton counties. Senator Merkley was the bill sponsor on making these funds available. These funds are for groups (ISP/Non-Profits/ETC.)
• Question for Courtney Flathers about Century Link. CL receives money to provide rural internet connections. What can our government representatives do to make CL provide it. Courtney has spoken with someone from Lane County about this. There have been problems with providers getting funding and then not using it as designated. Courtney says that they will continue to pursue accountability in this area.
• Question about if Century Link and Comcast being invited (they were, but they aren't here).
Dave Yordy spoke. Dave is a neighbor and a former finance employee of Comcast. Dave said he would be willing to speak on behalf of our group with Comcast or other ISP's. He said there needs to be a financial commitment, and this can be provided by a small group of people who are willing to subscribe. He said that there needs to be cooperation between government agencies/franchise. He said for this to work that there needs to be a partnership between public and private entities.
Brooks McIntyre from Bailey Hill said that they tried to get Comcast and Century Link engaged and they were unsuccessful. They had 21 homes available.
Jim Evangelista discussed the communication methods needed for continued follow up on pursuing internet for the Spencer Creek Grange area. This will also need internet to work effectively. People were also asked for their names, phone numbers and email addresses in order to facilitate communication. People were asked to join the Facebook group: Spencer Creek Neighborhood Internet Access Group to stay in touch for updates, progress and meeting times. Invited people to FB group. A thank you to the CTV-29 group for creating a community broadcast of the meeting.
Steven Parac from XS Media spoke about how they wanted to be able work on projects to deliver more internet connectivity. Specifically the Bailey Hill project.
A women spoke about internet options. She referenced Peak.org which is another organization who can provide local internet.
Matt Sayre, Vice President of the Technology Association of Oregon spoke about the pilot project to create open access internet that the public owns the framework of the fiber optic infrastructure. The providers lease the framework and that pays the fiber investment back. This is great for the downtown project. It has been expanded to 129 buildings. Now every school in 4J has high speed internet. Open Access Fiber. Eugene has been a model of how communities can provide Open Access Fiber. EUGNet is the website where you can learn more about this.
• Question about how to start this project. Matt suggested expanding the Twin Oaks Public Access Fiber into this rural area. Referenced Oakridge and another city that have put in Fiber and then provided access.
• Someone asked about how this works. Matt said they ran 12 pair fiber to the buildings. You can run the fiber on the existing poles, dig trenches, etc. You need to work with the local utility company and the government. Lots of delivery methods. Matt suggested an extension of the Twin Oaks Fiber which could provide more options.
• There was a comment about the fact that Century Link has Fiber on Lorane Highway, but it belongs to Century link.
• Nolie Scheid with Lane Fi spoke about the ability to go wireless from Fiber.
• Matt recommends the public owned infrastructure route so that the providers don't own the route.
• Discussion about having the county commissioners apply pressure to Century Link and Comcast to use the rural funds to make more services available.
Jim Cantebure spoke about the access he has from Lane Fi and has been speaking with neighbors as a micro community to get better service. Lane Fi was created to get service to their home. And then was expanded to more neighbors. They also worked with XS Media to expand services.
Nolie Scheid of Lane Fi talked about working together in communities to expand in communities. Lane Fi provides service at 25 mbs per second. There was a question about Lane Electric open to fiber on the pole. Nolie says that they are and that is part of what they have been doing to deliver service.
Debbie spoke about getting the people in the valleys talk to the neighbors on the top of the hills in working together to get line of site wireless technology available.
Debbie Cutler from Citizens for Safe Technology recommended that people check out the website and learn more about the technology.
There was a question about line of site technology. Nolie Scheid of Lane Fi provided a clarification about how line of site internet works.
Debi Wilson, Acting GM of Lane Electric spoke. She is here to learn and listen. She says she is concerned about what her clients worry about.
• Paula Costante from Fox Hollow. Question about CL or Comcast (providers) asking about allowing companies to run lines and subsequently forcing the provider to lease out those resources. Nolie Scheid explained that is a provider has built the lines then that is their investment.
• Dave Yordy also explained the franchising agreements which govern the requirements.
• Mark Shapiro spoke about the fact that this community is Lane Electric and says that if the customers say to put fiber in the poles, then they should do so. Mark says he has asked for 10 years at the Lane Electric meetings for help to get internet. Mark has been suggesting ATT has technology that could be helpful (pole hopping tech)and would like Lane Electric to look at it.
• Debbie (citizen) was asking for Lane Electric to work with local internet providers to use the electric infrastructure to provide internet to their clients.
• Another question about the Lane Electric education process. Debbie from Lane Electric said they are taking a more formal process in educating themselves and are looking at this problem in depth but doesn't expect an answer this year. A frustrated citizen is disappointed about the lack of progress on the internet solution.
• Another citizen says that he attended a Lane Electric public meeting on this issue 2 years ago and no progress has been made. He is frustrated.
• Chris Subert – Director at Lane Electric (retired from Qwest) and he is responsible for getting a lot of the existing internet here. He was talking about having Lane Electric make the right decision about how they get involved in Broadband available and they want to make sure they make the most cost effective decision about delivering technology with minimum rate disruption. They don't want customer rates to go up if a bad decision is made on implementing internet technology.
Austin Ramirez who works with the Community and Economic Development department for Lane County spoke. Austin said that Lane Electric is taking steps in the right direction to be successful. Austin says rural broadband in Oregon is challenging because of its terrain. Broadband brings opportunity to rural communities. Lane County is working with local providers as well as working with the federal government to find resources and apply them. Austin discussed how to self report broadband speeds because the providers report optimum speeds that are not real.
A citizen named Billy discussed Vsat technology. He was saying it is available now. It is antenna based satellite technology. The citizen said the latency was very low. Austin mentioned weather interruptions and latency being a problem. Discussion about satellite technologies place is making internet available.
There was a question about cell towers and how they disperse signals. Also, about whether or not a cell tower built by Verizon (for example) is accessible to other carriers (usually no appeared to be the consensus.)
Ron Kuger spoke. He said when they moved here they had Century Link 8 years ago – and then service degraded. Signed on to a new CL link and had the same degradation problem. Now he is with XS Media and is very happy. Shared history about rural electricity being deployed in the 30's and compared internet projects today to that effort to provide electricity. He is an engineer and suggested that Lane Electric have a Fiber Optic engineer on their board and offered that he may be a good person.
There was a count of hands to determine what technologies the meeting participants had: Satellite, Hot Spots, Century Link, Lane Fi, XS Media. No one said they were on dial up.
Sue Thompson citizen spoke and suggested local communities group together to work with Lane Electric and Lane County.
Billy offered information about Vsat and offered information as a temporary measure until a permanent solution could be found.
Closing: Jim Evangelista spoke about being in communication through the Facebook group and through email and also about setting a next meeting. Set another meeting date for 60 days from now. Look to schedule a follow up meeting date of Saturday, April 13th at 2 pm at the Spencer Creek Grange.
Second Rural Internet meeting on April 13th, 2019
Minutes will be posted here when they're available…