September 28th Barn Dance
Join us on Friday, September 28th, when the Spencer Creek Grange hosts an evening of dancing and music from 7 pm to 10 pm. All ages are welcome and admission is $6 for ages 12 and up, $3 for children 11 and under. Woody Lane will be the caller for these fun, traditional dances with music provided by the Beakers Yard.
The Spencer Creek Grange is located at the corner of Lorane Hwy and McBeth Rd, just 15 minutes south of the intersection of Chambers and Lorane Hwy in Eugene. For more information, contact us!
---
September 29th Plastic Recycling Day
Don't throw away those yogurt containers just yet! Instead, bring them — and other plastics described below — to the Spencer Creek Growers Market at the Grange on Saturday, September 29th, between the hours of 10 a.m. and 2 p.m.
We will be providing a convenient, local drop-off collection point one day ahead of the Lane County Waste Management's First Free Plastics Roundup Event. The Spencer Creek Growers Market will have collection bins marked for three categories of plastic that are being accepted for recycling.
Clean #2, #4 & #5 bottles, tubs, lids and handles sorted by number and by shape, as pictured below, will be accepted. All items must be washed clean. Remove all labels that are not printed on container. All materials must be clearly stamped with a resin code (number inside chasing arrows) of #2, #4 or #5 and must be separated into the shape descriptions shown below. No other plastic types will be collected at this event. A volunteer from the OSU Extension Service will be on-hand to answer questions and assist in sorting your plastic items.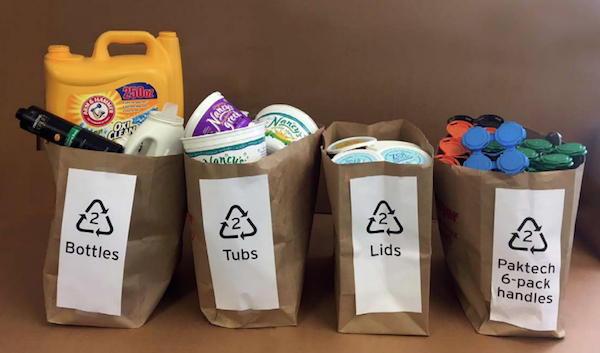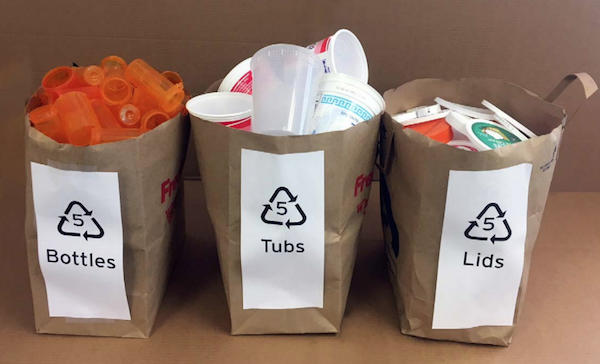 The Changing Plastic Landscape
The dominant position that China holds in global manufacturing means that for many years China has also been the largest global importer of many types of recyclable materials. In 2016, Chinese manufacturers imported 7.3 million metric tons of waste plastics from developed countries, including the UK, the EU, the US and Japan. According to a study in the journal Science Advances, China has recycled 72 percent of all the world's plastic since 1992. Much of that came to a halt in July of 2017 when Beijing notified the World Trade Organization that it planned to stop importing 24 varieties of solid waste, including the types of plastics commonly sent from the United States. China's State Council told the WTO that they had found large amounts of dirty and hazardous material mixed with the imported solid waste, leading to serious environmental pollution. In an effort to enforce environmental regulations, China's Green Fence initiative reduced acceptable contamination levels in incoming recyclable scrap material from between 3 and 10 percent to 1.5 percent, a level which most US trash processing plants have been unable to meet. Here at home, this led to an October 2017 announcement by Lane County Waste Management that it would no longer accept most plastics at the Glenwood Transfer Station in Eugene as well as at all the other outlying transfer sites.
The collected plastics from our September 29th Plastic Recycling Day event will be taken to the Glenwood Transfer Station on Sunday September 30th. From there it will go to Denton Plastics in Portland, which plans to recycle them into park benches, decking, flower pots, electronic components and other items.
---
What is the Grange?
The Grange is a grassroots, non-partisan, non-sectarian, fraternal organization with its roots in agriculture. Although the Grange was originally an organization of farmers, it has evolved to include people from all walks of life who have a common goal to make our world a better place to live.
The members of the Spencer Creek Grange are your neighbors, and include families who have lived here for generations as well as newcomers to the area. A shared love of agriculture, the natural world, and rural society unites us. Attend one of our events or join us at one of our monthly meetings… a friendly welcome awaits you!
Meetings
Meetings are held at 7:00 p.m. on the third Tuesday of each month. You're also invited to attend one of our Community Potlucks, an informal gathering during which you'll have an opportunity to eat scrumptious food, hear informative presentations by guest speakers and catch up with what's new in your community. The potlucks take place once every three months and begin at 6:00 p.m.
Activities and Events
The Grange has become the venue for a growing number of fun and informative events. These include the Spencer Creek Community Growers' Market, our annual Very Berry Pancake Breakfast, our popular Barn Dance series and the spookiest Haunted House you'll ever experience.
Contact Us
We can be reached by email or you can write to:
Spencer Creek Grange No. 855

PO Box 25425

Eugene, OR 97402
The Spencer Creek Grange Hall is located at 86013 Lorane Highway at the corner of McBeth Road in Eugene. To learn how to get to the Grange, you can use this Google Maps link.