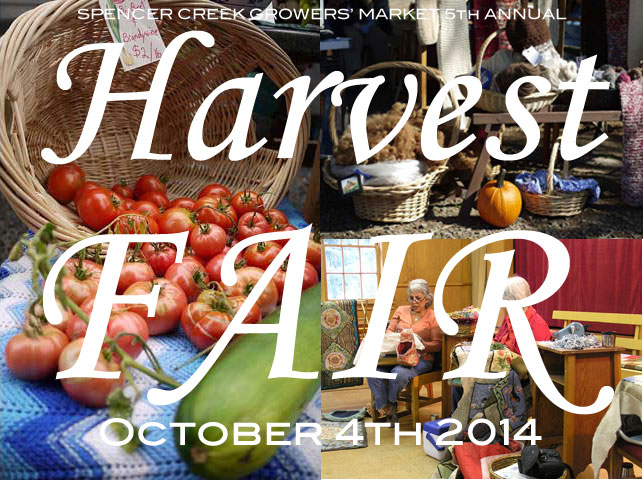 Spencer Creek Growers Market 5th Annual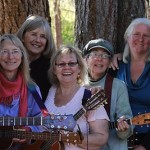 Join us between the hours of 10 a.m. and 4 p.m. on Saturday, October 4th, for the Spencer Creek Market Harvest Fair. Along with our produce and craft vendors we'll have live music by the eclectic Late for Dinner acoustic ensemble. We'll also be cider pressing all day so gather up your apples and empty juice containers and bring them to the Fair. 15 pounds of fruit will earn you 1 gallon of juice. The fruit need not be perfect but must not be overripe or spoiled.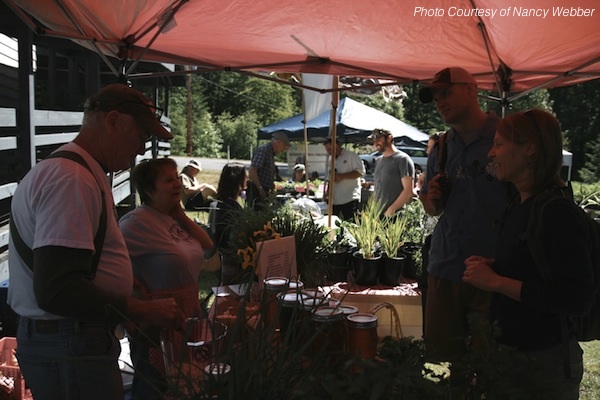 Growers Market at the Grange
Be sure and visit the market as we wrap up the season this coming Saturday, October 4th, at the Grange. You'll find a plethora of produce including melons, red peppers, a wide array of succulent heirloom tomatoes, eggplant, summer squash, potatoes, onions, garlic and plenty more. You'll also find collections of stunning cut flowers, eggs, honey, fresh home-grown popcorn & a wide variety of crafts. See the full list on our Market Vendors page. And be sure and pop into the Grange kitchen where you'll find baked goods, organic coffee and soup and salad, hyperlocal and hyperfresh!
So drop on by for your week's supply of fresh veggies, have a look around at our creative craft vendors, grab yourself a plate of down-home cooking and pull up a chair at one of our outdoor tables!
What is the Grange?
The Grange is a grassroots, non-partisan, non-sectarian, fraternal organization with its roots in agriculture. Although the Grange was originally an organization of farmers, it has evolved to include people from all walks of life who have a common goal to make our world a better place to live.
The members of the Spencer Creek Grange are your neighbors, and include families who have lived here for generations as well as newcomers to the area. A shared love of agriculture, the natural world, and rural society unites us. Stop by for a meeting…
a friendly welcome awaits you!
Meetings
Meetings are held at 7:00 p.m. on the third Tuesday of each month. You're also invited to attend one of our Community Potlucks, an informal gathering during which you'll have an opportunity to eat scrumptious food, hear informative presentations by guest speakers and catch up with what's new in your community. The potlucks take place once every three months and begin at 6:00 p.m.
Activities and Events
The Grange has become the venue for a growing number of fun and informative events. These include the Spencer Creek Community Growers' Market, our annual Very Berry Pancake Breakfast, our popular Barn Dance series and the unimaginably spookiest Haunted House you'll ever experience.
Contact Us
We can be reached by email or you can write to:
Spencer Creek Grange No. 855

PO Box 25425

Eugene, OR 97402
The Spencer Creek Grange Hall is located at 86013 Lorane Highway at the corner of McBeth Road in Eugene. To learn how to get to the Grange, you can use this Google Maps link.