Summer Barn Dance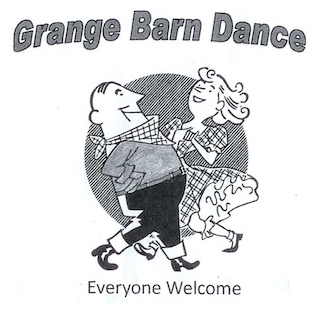 Join us on Friday, August 14th, when the Spencer Creek Grange hosts an evening of dancing and music from 7 to 10 pm. All ages are welcome and admission is $6 for ages 12 and up. Woody Lane will be the caller for these fun, traditional dances and music will be provided by the Slippery Slope String Band. Basics will be covered at a beginner's workshop which will be taught at 7:00 pm. The Spencer Creek Grange is located at the corner of Lorane Hwy and McBeth Rd, just 15 minutes from the Chambers and Lorane Hwy intersection in Eugene. For more information, contact us!
Growers Market at the Grange
The Spencer Creek Growers' Market can be found every Saturday at the Spencer Creek Grange. Stop on by between the hours of 10 a.m. and 2 p.m. and check out the fresh produce, crafts and Nigerian Dwarf baby goats! A detailed list of vendors and what they expect to be selling on any particular Saturday can be found on our Products & Vendors page.
Pop into our kitchen just after we open and you'll find delicious baked items along with fresh roasted, shade-grown fair trade coffee! Beginning around Noon you can choose from a delicious home-grown local lunch menu. Seating and service is available in the Grange kitchen and outdoors in the shade of tall conifers.
Cruise & Ride OPVA Benefit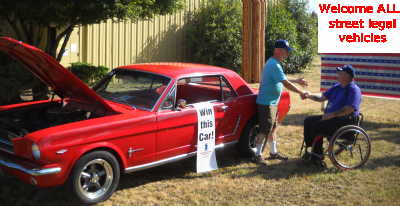 Spencer Creek Grange is excited to announce that on Saturday, August 8th we'll be the 4th stop in this year's Grange to Grange Drive benefitting Oregon's Paralyzed Veterans of America (OPVA). The OPVA and several other Lane County Granges are hosting the drive for all street legal motorized vehicles. Enjoy the country scenery, with destination points where you'll find opportunities to buy raffle tickets, draw poker cards, purchase snacks, enjoy lunch at the Spencer Creek Community Growers' Market, listen to live music, play BINGO and other games, and admire arts and crafts. You're sure to have fun, meet and make new friends, and learn more about OPVA and the Grange organization.
The drive starts between 9-11 a.m. at Crow Grange (85994 Territorial Hwy, Crow, Oregon), finishing at Crow Grange by 3 p.m. Early registration is only $10 per vehicle if mailed before 7/31/15, otherwise $15 per vehicle. For more information, go to cruise-n-ride-benefit.org and the Grange 2 Grange Drive facebook page.
Granges in Lane County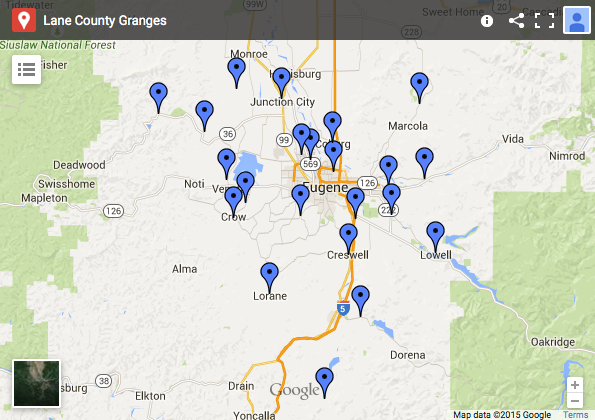 Folks visiting our Market from other parts of the county sometimes ask if there is a Grange closer to where they live. To help answer that question we have assembled an interactive map that shows the locations of all 22 granges in Lane County. Additional information on Lane County Granges and the historic role of the Grange in community agriculture can be found in this year's Locally Grown Guide published by the Willamette Farm & Food Coalition.
What is the Grange?
The Grange is a grassroots, non-partisan, non-sectarian, fraternal organization with its roots in agriculture. Although the Grange was originally an organization of farmers, it has evolved to include people from all walks of life who have a common goal to make our world a better place to live.
The members of the Spencer Creek Grange are your neighbors, and include families who have lived here for generations as well as newcomers to the area. A shared love of agriculture, the natural world, and rural society unites us. Attend one of our events or join us at one of our monthly meetings… a friendly welcome awaits you!
Meetings
Meetings are held at 7:00 p.m. on the third Tuesday of each month. You're also invited to attend one of our Community Potlucks, an informal gathering during which you'll have an opportunity to eat scrumptious food, hear informative presentations by guest speakers and catch up with what's new in your community. The potlucks take place once every three months and begin at 6:00 p.m.
Activities and Events
The Grange has become the venue for a growing number of fun and informative events. These include the Spencer Creek Community Growers' Market, our annual Very Berry Pancake Breakfast, our popular Barn Dance series and the spookiest Haunted House you'll ever experience.
Contact Us
We can be reached by email or you can write to:
Spencer Creek Grange No. 855

PO Box 25425

Eugene, OR 97402
The Spencer Creek Grange Hall is located at 86013 Lorane Highway at the corner of McBeth Road in Eugene. To learn how to get to the Grange, you can use this Google Maps link.