Plastics Collection Event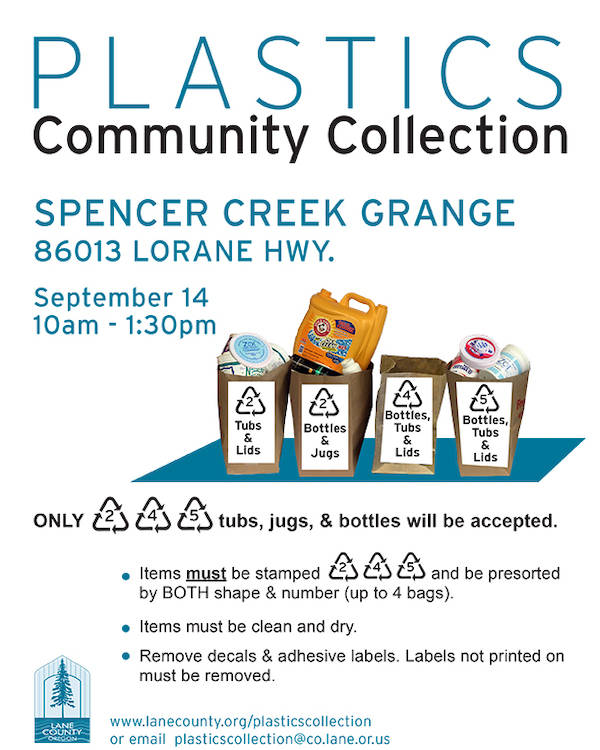 On September 14th we will be providing a convenient, local drop-off collection point for numbers 2, 4, and 5 plastic containers and lids. The Spencer Creek Growers Market will have collection bins marked for these three categories of plastic that are being accepted for recycling. More info regarding these periodic plastics recycling events can be found here and here.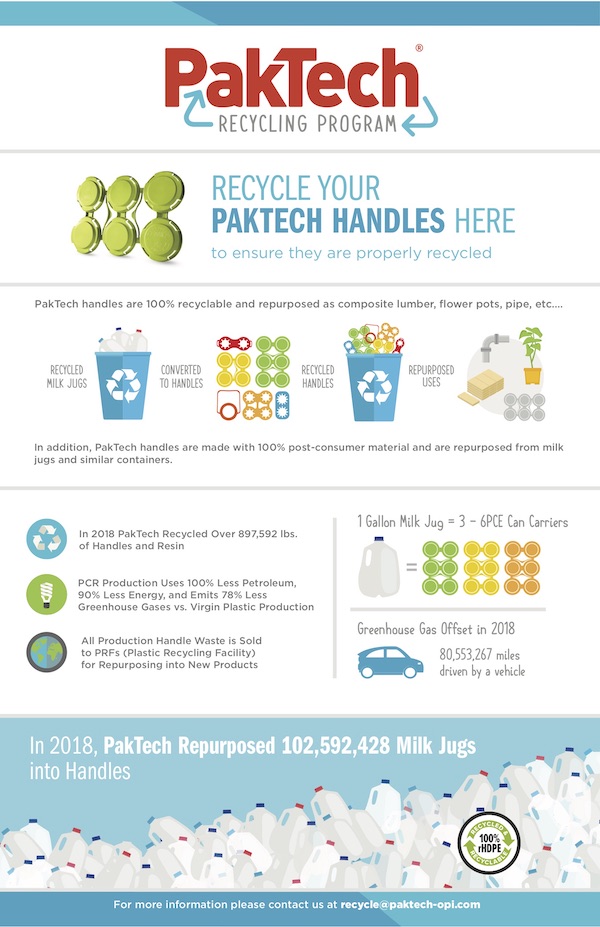 We will also be providing a collection bin for PakTech Handles, the now-commonplace contraption for holding six pack aluminum cans together. These 6 pack handles are not accepted by Lane County plastics recycling program but are instead collected by PakTech, a Eugene-based company that manufactures these 100% Post-Consumer Recycled (PCR) HDPE handles. Since 2012, PakTech has repurposed 398 million milk jugs into handles which has kept 46 million lbs. of plastic out of landfills and oceans and saved 18 acres of land from being used as landfills for waste. Second life PakTech handles are also 100% recyclable. When PakTech handles are recycled, they often see a third life as composite lumber, flower pots, park benches, new PakTech handles and more!
---
35th Annual Chicken BBQ
As the renovation to our 83 year old building is in full swing, we have decided to postpone our annual Chicken BBQ, originally scheduled for September 22nd. Check back with us soon for an announcement of the new date!
---
10th Annual Harvest Festival
Our 10th Annual Harvest Fair will take place at the Spencer Creek Grange on October 5th from 10 a.m. to 3 p.m. Cider pressing will take place throughout the day. You'll get a gallon of cider for every 10 to 15 pounds of apples. Although we try and have some containers available, it's best if you bring clean containers along with your apples. The apples don't have to be perfect — if the apples are good enough to trim and eat, they're fine for cider!
Music will be performed by perennial folk music favorites, Wandering Thyme. Bob Brasted and Rene Minz have been singing and leading folk music sing-a-longs for over 30 years with their unique blend of original and traditional home-grown Americana harmonies. Catch them on stage beginning at 12:30 a.m.
As has been our tradition, this year's lunch will feature salmon chowder, vegan autumn vegetable soup, bread rolls, gluten-free corn bread, fresh green salad, honey walnut pie and assorted fruit pies with whipped cream. Enjoy an old-fashioned country market where you'll find plenty of fresh veggies along with crafters, food artisans, live music and a delicious all-local lunch with ample outdoor seating!
---
2019 Holiday Bazaar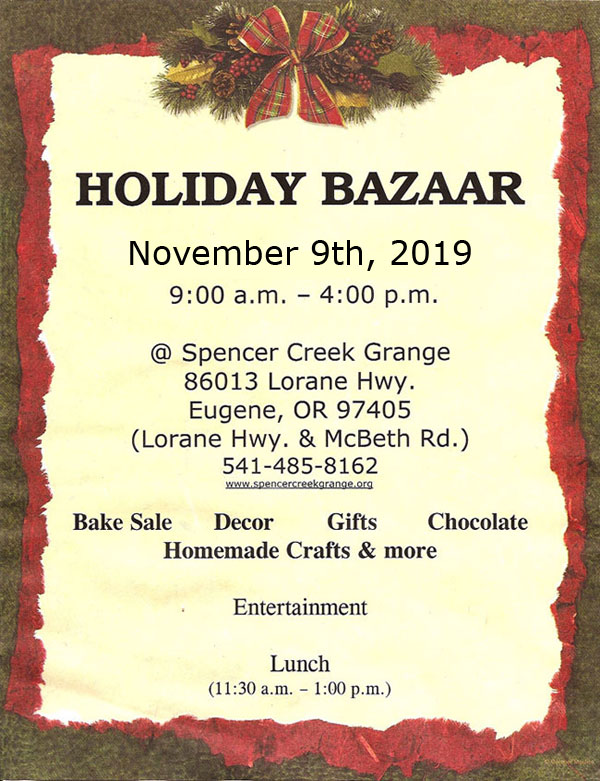 Join us for our annual Holiday Bazaar, taking place this year at the Spencer Creek Grange on Saturday, November 9th, from 9:00 a.m. till 4:00 p.m. As was the case last year, we're planning on a chili feed that includes a vegetarian option. Food will be served from 11 a.m. to 3 p.m.
To reserve a space to sell, please email Harold or call 541-255-0393.
---
What is the Grange?
The Grange is a grassroots, non-partisan, non-sectarian, fraternal organization with its roots in agriculture. Although the Grange was originally an organization of farmers, it has evolved to include people from all walks of life who have a common goal to make our world a better place to live.
The members of the Spencer Creek Grange are your neighbors, and include families who have lived here for generations as well as newcomers to the area. A shared love of agriculture, the natural world, and rural society unites us. Attend one of our events or join us at one of our monthly meetings… a friendly welcome awaits you!
Meetings
Meetings are held at 7:00 p.m. on the third Tuesday of each month. You're also invited to attend one of our Community Potlucks, an informal gathering during which you'll have an opportunity to eat scrumptious food, hear informative presentations by guest speakers and catch up with what's new in your community. The potlucks take place once every three months and begin at 6:00 p.m.
Activities and Events
The Grange has become the venue for a growing number of fun and informative events. These include the Spencer Creek Community Growers' Market, our annual Very Berry Pancake Breakfast, our popular Barn Dance series and the spookiest Haunted House you'll ever experience.
Contact Us
We can be reached by email or you can write to:
Spencer Creek Grange No. 855

PO Box 25425

Eugene, OR 97402
Messages may be left on our message line at (541) 485-8162
The Spencer Creek Grange Hall is located at 86013 Lorane Highway at the corner of McBeth Road in Eugene. To learn how to get to the Grange, you can use this Google Maps link.