Spencer Creek Growers' Market at the Grange
OPENING DAY — Saturday May 30th
Our 6th market season will begin on May 30th, 2015. Hours of operation are 10 am to 2 pm. The Market accepts SNAP (Oregon Trail Cards), and hopefully more of our farmers will be signing up to accept WIC (Women Infants and Children) and FDNP (Food Direct Nutritional Program). If you're a senior, or if you know a senior eligible for food stamps, get started with that process now in order to receive coupons for free produce at our market (FDNP).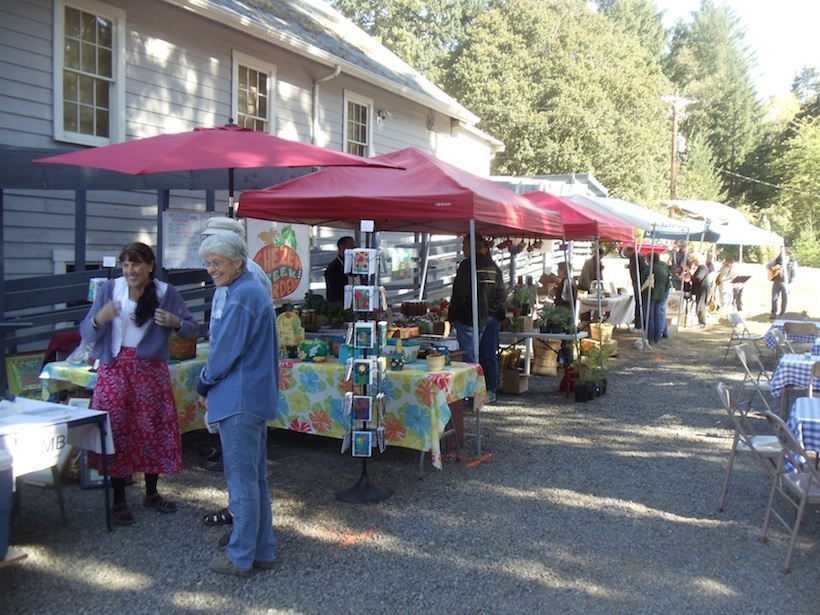 The 2015 market will take place on Saturdays, 10 a.m. to 2 p.m., May 30th through October 10th, behind the Grange and alongside a grove of mature pine and fir trees. The Spencer Creek Grange is located at 86013 Lorane Highway at the corner of McBeth Road in Eugene. Instead of commercial farmers, our sellers are largely backyard growers and hobby farmers offering locally grown fresh fruits, vegetables, eggs, nursery plants, plant starts and much more. Our market also includes many crafters and food artisans. Vendors are not required to attend more often than they are able and willing.
Check out our Products and Vendors page for a weekly preview of what you can expect to find at the next market. If you're interested in becoming a vendor, click here.
Our Mission Statement
The Spencer Creek Growers' Market is committed to providing a venue for neighbors to sell their locally produced agricultural items with an emphasis on sustainable and healthy growing practices, while encouraging and supporting local food production efforts through the fellowship of community.
We've been Busy
We are now a registered non-profit membership organization in Oregon and we will be applying for 501(c)(4) tax exemption shortly. We have adopted bylaws and we are governed by a board of directors. You can share in the governance of the market, too!
Membership for All!
Anyone in our community can become a member, whether they are a vendor, shopper, or just a visitor.
Benefits of membership
Elect or run for the board of directors at the annual membership meeting in October.
Special invitation to the end of season celebration party for members (previously for vendors only.)
Sell at the market when your products are approved (click on become a vendor on our website spencercreekgrange.org/market)
One free classified ad in our newsletter "The Market Monthly" (debuting at our first market!)
Your name automatically entered in a chance to win a Work Party at your home for your gardening/food production project!
The satisfaction of joining and supporting an organization which is laying down the foundation for food independence in our community.
Qualifications for membership
$10 yearly membership dues, paid at the market to the site manager.
Visit, shop, or sell at six markets in one season. (If you visited/shopped or sold at least six markets in 2014, then you've already met that qualification!)
That's it! Welcome!
Meet the Board






Rachel
Marcotte
Jen
Michaud
Genie
Harden
Glenn
Harden
Ellen
Oare
Norm
Waterbury