Spencer Creek Community Growers' Market at the Grange
Our 5th market season will begin on May 31st, 2014. Our hours of operation are 10 am to 2 pm. We feature an array of seasonal veggies, locally grown berries, meat from pasture raised animals, honey and plenty of farm fresh eggs. We also have crafters and food artisans. Our emphasis and focus is offering the public a wide variety of locally grown and produced items. The Market accepts SNAP (Oregon Trail Cards), and hopefully more of our farmers will be signing up to accept WIC (Women Infants and Children) and FDNP (Food Direct Nutritional Program). If you're a senior, or if you know a senior eligible for food stamps, get started with that process now in order to receive coupons for free produce at our market (FDNP).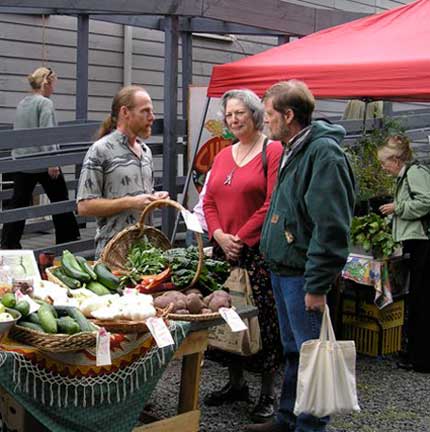 The market takes place on Saturdays, 10 am to 2 pm and for 2014 will run from May 31st through October 4th, behind the Grange and alongside a grove of mature pine and fir trees. The Spencer Creek Grange is located at 86013 Lorane Highway at the corner of McBeth Road in Eugene. Instead of commercial farmers, our sellers are largely backyard growers and hobby farmers offering locally grown fresh fruits, vegetables, eggs, nursery plants, plant starts and more. Vendors are not required to attend more often than they are able and willing.
Click here to become a member.
2013 – Our Fourth Year
We wrapped up our fourth season on October 5th of 2013. Shoppers, vendors and musicians all expressed their enthusiasm and we have some improvements in the works for the vendor area as well as the kitchen for the 2014 season. Membership in our market continues to grow. Thinking of joining? It's easy to become a member. Just follow the 3 steps outlined above.
In the News
Our Mission Statement
The Spencer Creek Community Growers' Market is committed to providing a venue for neighbors to sell their locally produced agricultural items with an emphasis on sustainable and healthy growing practices, while encouraging and supporting local food production efforts through the fellowship of community.