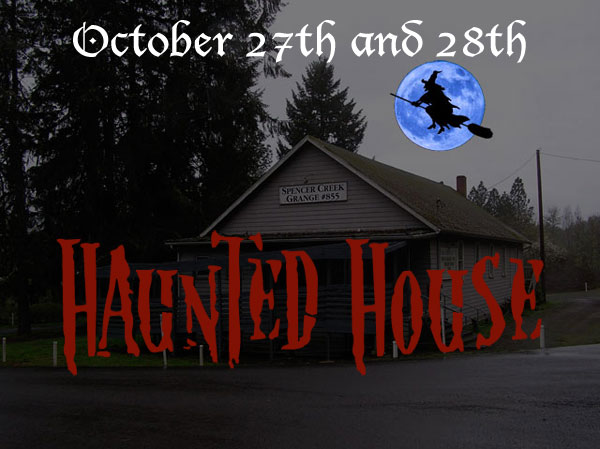 Haunted House
The Spencer Creek Grange will be ground zero for the spookiest Haunted House in Eugene on Friday and Saturday nights — October 27th & October 28th.
Our Haunted House events are wicked good fun. Folks say they enjoy the ghoulish props and performances although some youngsters that come find it a bit too spooky. Laurie Nichols described it this way:
Came out with my 10 year old daughter last night. We didn't actually make it thru the door because my daughter bailed. Stood in line two times tho. Anyway just thought I would let you know it looked like a nicely done event. I know you are probably trying to make money with this event but I appreciate having a nicely run haunted house to (try) and take my kids to. Enjoyed the guy with the shovel as well as the creepy clown at the door. Hope there is a 3rd annual Haunted House cause I would like to get inside. Thanks for your efforts and hope to see you next year.
Yes, Laurie, we'll be back again on October 27th and 28th for another gruesomely fabulous fright-fest. Guaranteed to creep you out!
Additional details forthcoming … Check back soon!!
---
What is the Grange?
The Grange is a grassroots, non-partisan, non-sectarian, fraternal organization with its roots in agriculture. Although the Grange was originally an organization of farmers, it has evolved to include people from all walks of life who have a common goal to make our world a better place to live.
The members of the Spencer Creek Grange are your neighbors, and include families who have lived here for generations as well as newcomers to the area. A shared love of agriculture, the natural world, and rural society unites us. Attend one of our events or join us at one of our monthly meetings… a friendly welcome awaits you!
Meetings
Meetings are held at 7:00 p.m. on the third Tuesday of each month. You're also invited to attend one of our Community Potlucks, an informal gathering during which you'll have an opportunity to eat scrumptious food, hear informative presentations by guest speakers and catch up with what's new in your community. The potlucks take place once every three months and begin at 6:00 p.m.
Activities and Events
The Grange has become the venue for a growing number of fun and informative events. These include the Spencer Creek Community Growers' Market, our annual Very Berry Pancake Breakfast, our popular Barn Dance series and the spookiest Haunted House you'll ever experience.
Contact Us
We can be reached by email or you can write to:
Spencer Creek Grange No. 855

PO Box 25425

Eugene, OR 97402
.